SCREENPRINTING FOIL VERSUS METALLIC INK: WHICH IS BETTER FOR YOUR BUSINESS?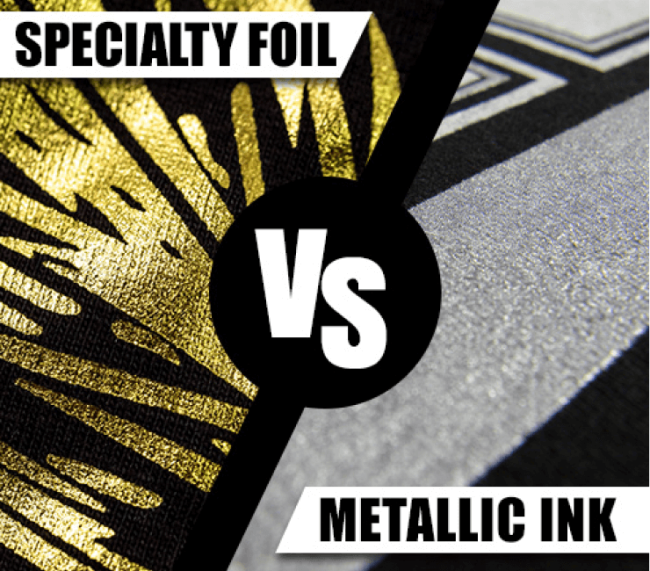 With so many ink and printing options to choose from, it can be overwhelming. If you want to stand out from the crowd and attain something impressive, foil or Metallic ink might be for you. If you have already decided to go with speciality inks you might be thinking, "I'm between the Foil and Metallic ink, but what is the difference?" We're glad you asked! We've compared the two to help you make the right decision for a big project.
What Is Foil?
Simply put, the Foil process starts with printing your design in Plastisol, and then a thin layer of reflective Foil is pressed onto the shirt where it adheres to the ink. In turn, this creates a polished effect wherever it is pressed. We can implement Foil by itself, or you could combine it with traditional Plastisol to create eye-catching details. Like all speciality inks, use Foil sparingly and creatively. It comes in a myriad of colors, including Holographic. There are many different ways we can use Foil in your design to add a subtle flair; feel free to ask how we can implement Foil into your next design!
What Is Metallic Ink?
Metallic ink is a special kind of Plastisol that has mixed with small Metallic flakes. Metallic ink has a visual effect similar to high-quality glitter. It is a less expensive option than foil, and it still offers the opportunity to include some texture and shimmer in your design
Advantages And Disadvantages Of Foil
Foil can be a great way to add some "wow-factor" to your idea! The Foil process works best on compositions without small details and fine points. This technique is perfect for large areas and not recommended for intricate work since the Foil won't peel that well in the production process. If you want your product to stand out you can use Foil with a spot color to add a dramatic pop! While the foil will hold over time, the sheen will eventually fade. We recommend washing your apparel inside out in the wash and hang dry. Otherwise, use a warm tumble for your dryer setting.
Advantages And Disadvantages Of Metallic Ink
Metallic inks are a great option for any project that needs a little bling or shimmer. Metallic Inks can be used as an alternative to foil, which requires a more costly setup and technique, though the result is drastically different. Metallic inks can add a touch of color and shine while giving the feeling of elegance or glamour to your design. Similar to foil, Metallic ink is not the best choice for elaborate details or halftones. We recommend a gentle wash to keep your design bright and reflective. Metallic ink is thicker than typical Plastisol and may not work for certain designs where a thinner application is required.
Whether you choose Metallic or Foil, hopefully, this article has helped you find the perfect solution for your apparel. With so many ink and printing options to choose from, it can seem challenging to stand out. However, with the right design and printing method, it can be easy! Let us work with you to choose the perfect options for your next project. We're here to help you move forward with confidence!