WITH A MOBILE BILLBOARD, YOU WILL LOOK FORWARD TO
GETTING STUCK IN A TRAFFIC JAM!
ADVERTISE ON THE GO!
Wraps are the most cost-effective way to build brand recognition and advertise your company's services.
Do you have a delivery truck or multiple fleet of vehicles? 
You could be gaining millions of impressions per mile... and for penny's on the dollar. Wraps last 3-5 years and can generally pay for themselves within the first 6 months in service.  We can wrap the entire body from bumper to bumper, or get creative with partial coverage and incorporating the vehicle's color.
TAKE YOUR BRAND PRESENCE
TO THE NEXT LEVEL!
We wrap everything from cars, trucks, trailers, walls, storefront, windows and more! When you wrap with us, your message will be clean & clear and you will get a proven ROI compared to any other form of advertising.
Car wraps are an increasingly popular way to promote your brand! A car wrap is essentially just a large vinyl graphic or decal applied directly to your car's surface. They also allow you to make a bold, eye-catching statement with any design to represent your brand! Since car wrapping is cost-effective, this a perfect solution for your business!
For most service-related industries, vehicle wraps are the most effective tool to generate new business from your clients, their patrons and neighbors when every time you are out on a service call...
THE DIFFERENCE IS
IN THE DETAILS
At Hittn' Skins, we use only the highest quality 3M materials for maximum impact and longest-lasting durability. All of our design, printing, laminating & installations are performed in-house by a certified staff.
Don't bother with some wheel & deal rush wrap company looking to compete on price alone and sell you a bunch of Crap-4-Less.
Their products will only fail over time and cost you more in the long run. Look closely at the design layouts, the body lines & the seams. Cheaper is not always better...especially if you care about your brand image.
OUR VEHICLE WRAP OPTIONS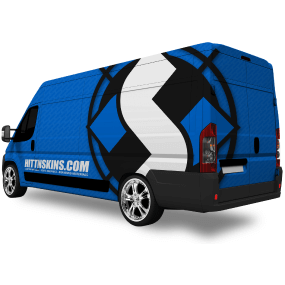 FULL WRAPS:
Full wraps cover all of the exterior painted surfaces of the vehicle; this includes the front, hood, back, driver, passenger sides, window and roof. Pricing of full wraps varies depending on make, model & total square foot of material coverage. Full vehicle wraps are the complete package and our best suggestion for maximum impact. Make a lasting impression every time you hit the road with a custom vehicle wrap by Hittn' Skins!
PARTIAL WRAPS:
Partial wraps cover only a portion of the exterior painted surfaces of the vehicle; usually about 50% of the vehicle. Pricing of partial wraps varies depending on the make, model & total square foot coverage. Depending on the color of the vehicle & your company's identity we can sometimes create a partial wrap that looks like a full wrap and reduce the overall cost without sacrificing the impact of the ad. Partial wraps are main used to keep the cost down or to stay within a customer's set budget.
VEHICLE LETTERING:
Fleet vehicle lettering is by far the most cost-effective way to go if you have a limited budget or a large fleet of vehicles. From a single vehicle to an entire fleet of "rolling billboards" we've got you covered! With vehicle lettering packages starting under $500 per vehicle, there is no reason why any company should be driving around in a blank white cargo van. From simple door lettering to DOT numbers, we can do it all! Give us a call today to talk to one of our dedicated account reps about your vehicle graphics & advertising goals. View our portfolio to see what Hittn' Skins can do for your company's branding!
WINDOW WRAPS:
Window wraps or window graphics are a great way to brand your vehicle or storefront and create interest on the outside. With perforated window films, you can create a full-color, fully wrapped look from the outside without forfeiting the viewability from the inside. We can wrap any window with eye-catching advertisements in full-color solid vinyl, perforated window film or simulated etched glass vinyl..
VEHICLE WRAPS ARE THE MOST COST-EFFECTIVE ADVERTISING TOOL AVAILABLE…PERIOD.
We approach each wrap project as a unique marketing tool and build them all to suit the customer's specifications.
We go outside the box when it comes to the layout and design to make sure the customer's marketing goals are
We approach each wrap project as a unique marketing tool and build them all to suit the customer's specifications. We go outside the box when it comes to the layout and design and make sure the customer's marketing goals are at the forefront before we even start our wrap designs. For all vehicle graphic inquiries, we invite you to make an appointment and bring your vehicle in for an initial consultation and free estimate. Getting a wrap quote over the phone is highly unlikely, we prefer to see the vehicle first (even if we've already done the same make & model before) just to make sure we can deliver exactly what the customer is expecting.
Our business model involves our design team working side by side our production department using a variety of in-house processes to produce higher-quality products. This concept constantly improves our staff's overall trade knowledge and ability to think ahead on your project from start to finish.
Please note: "cheap" is not in our vocabulary. We offer competitive pricing for the type of quality & design that we deliver. Selling the cheapest wraps in town or doing any of our services "for less" is not our bag…sorry, wrong company. Make an appointment today to find out more information on what a wrap can do for your business. Put your brand miles ahead of the competition with a custom vehicle wrap by Hittn' Skins!!
VEHICLE WRAP FAQ
You're more than welcome to install your own graphics; however, we have a team of skilled installers to ensure a quality and professional installation. We are not responsible for replacing the graphics should there be any issues with your installation.
There is no set price for vehicle wraps because we cater to any reasonable budget. Give us a call to set up an appointment to talk more about branding your vehicle.
We want to see you riding in your freshly branded vehicle as soon as possible! We prep and prepare the graphics ahead of time and schedule a convenient installation time that works best with your schedule. The time frame for wrapping vehicles will depend on the vehicle size and the amount of graphics being installed.
That sounds totally sick! However, our company specializes in commercial vehicle branding and graphics, so we wouldn't be able to help you out with your color change graphics.